2015
 Installation view: "3331 Art Fair 2015"
---
[Statement]
  The origin of many sports, especially interpersonal competition, may be traced back to conflicts such as murders or wars. Since time immemorial, it looks like people have been killing other people.
  For example, soccer apparently originates in 8th century England, from the winning side slicing off the defeated leader's head and kicking it at the end of a war. Later on supposedly the format changed to festivals where people would compete to kick the ball inside a gate. Whether it's boxing, judo, kendo, or sumo, it's clear that they originate from people killing each other.
  Before long, conflicts had rules  and people stopped killing people, transforming their form into peaceful sports.
  In addition, shogi is a game based on war (or the strategy building of war) that traces its roots to the ancient Indian board game chaturanga (*).
  In this series, I propose to make wars into sports (war revision) using the shogi format. Amidst feeling desperate in the powerlessness of art in this current moment in which the word "pre-war" loses its ironic meaning, I would like to make such a proposal.
––Atsushi Watanabe
(*)Chatranga is said to originate from a high priest gifting a game mimicking battles to make a war-obsessed king to stop fighting. Although chess also comes from chatranga, shogi is the only game that allows removed koma pieces to be used again on the board. In this way it's possible to interpret it as a war game avoiding direct death. In recent years, shogi has gained increasing international recognition.
(This series was presented at "3331 Art Fair 2015," created in a hurry in response to the murder of a Japanese journalist by Islamic State in January 2015. The perspective also connects to a previous work that also used the shogi domino effect (shogidaoshi). For the video piece I put out a call for various foreigners to participate online.)
---
[Overview of "3331 Art Fair 2015"]
Period: March 21, 2015- March 28
Venue: 3331 Arts Chiyoda
---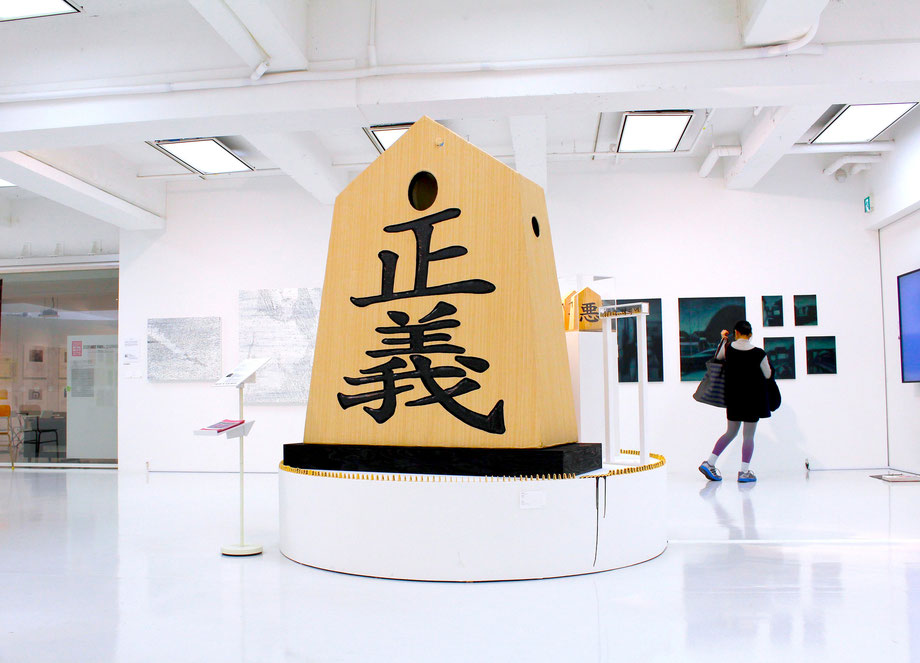 Koma (Japanese chess piece)
2015
Styrofoam, urethane, etc.
170×170×40(cm)
Edition: 2
---
NEW WAR
2015
Video
5 min.
Edition: 10
Video appearance: Jeffrey Chiedo, Chuck Franklin, Idris Veitch, Travis Klose, Jennings Jin, Pak Tongryong, Eric Pelletier
Noboru Kamata, Hiropon, Kimiaki Sugiki, JOYCE
Video shooting: Keisuke Inoue
Editing cooperation: Noboru Kamata
Cooperation: Art Lab TOKYO, 3331 Arts Chiyoda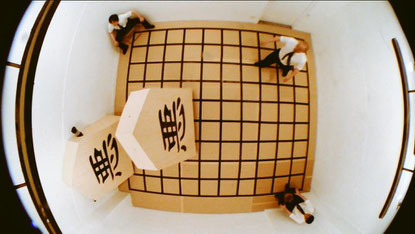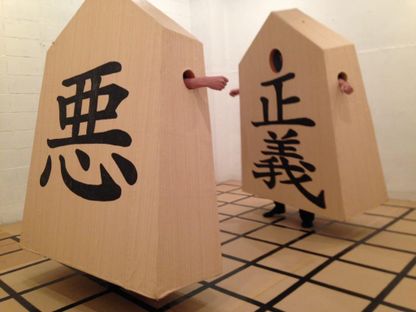 ---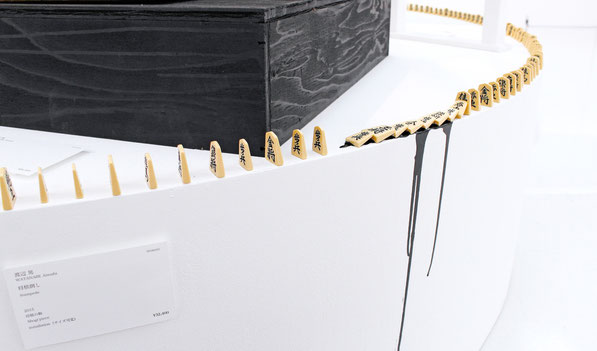 The Shogi Domino Effect (Shogidaoshi)
2015
Installation
Japanese chess pieces, paints, etc.
Variable size
---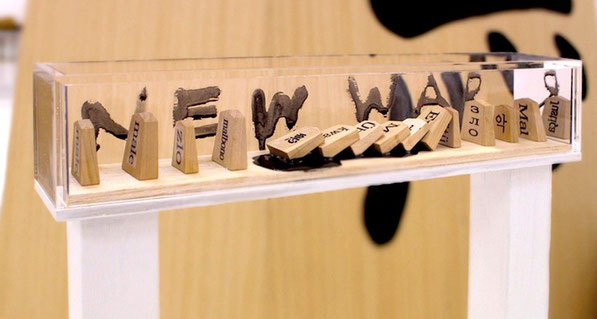 The Justice Domino Effect (Seigidaoshi)
2015
Japanese chess pieces, acrylic case, paints, etc.
30 × 5 × 5 (cm)
Edition: 10
---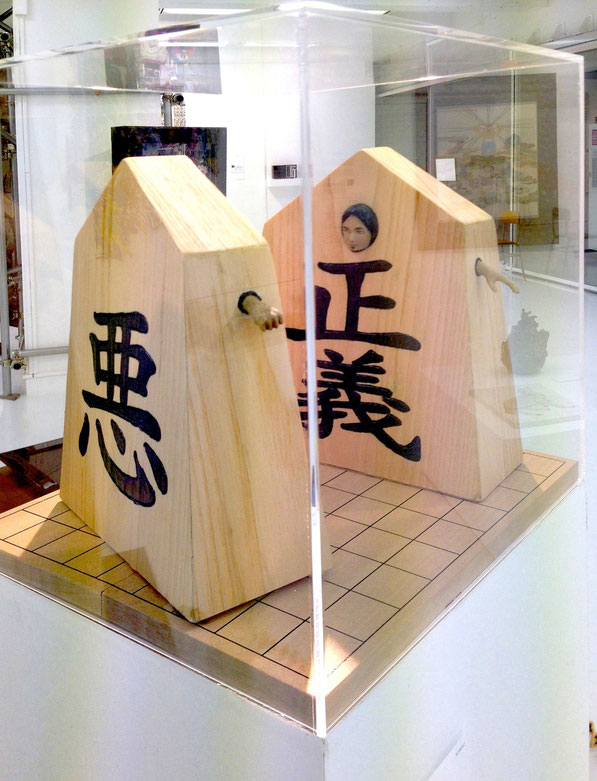 NEW WAR (Figures)
2014
Figures, wood, shogi board, etc
34×35×31cm
Edition: 5
34 × 35 × 31 (cm)
Front side is "Justice" . Back side is "Evil" .
---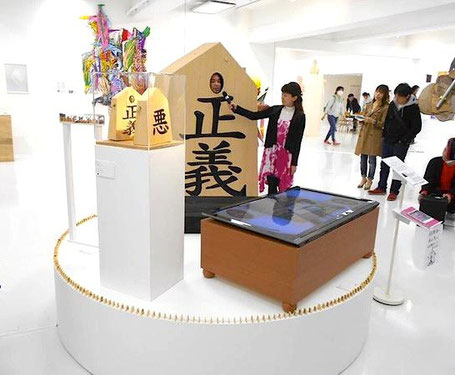 Artist Talk in "3331 Art Fair 2015"
---
[Award]
Atsushi Watanabe received three awards at "3331 Art Fair 2015".
"Toshiharu Shioiri Award", "Yusuke Hashizume Award", "Art Lab TOKYO Award"
---
[Production Support/ setting]
Memeko Mitani, JOYCE, Tami Yanagawa
[Video appearance]
Jeffrey Chiedo, Chuck Franklin, Idris Veitch, Travis Klose, Jennings Jin, Pak Tongryong, Eric Pelletier, 
Noboru Kamata, Hiropon, Kimiaki Sugiki, JOYCE (in no particular order)
[Video shooting]
Keisuke Inoue
[Editing cooperation]
Noboru Kamata
[Cooperation]

Art Lab TOKYO, 3331 Arts Chiyoda
---