From 2016 onwards
 Installation view: "Koganecho Bazaar 2016"
---
[Statement]
I think that many people have emotional scars caused by their personal problems, and at times turn into hikikomori(*1), or a person in social withdrawal, or commit suicide. In this society, people continue to bear more emotional scars, each one carrying its own story. (According to one theory, there are 3 million hikikomori and 30,000 people who commit suicide each year in Japan.)
     Even those who identify themselves as strong and unhurt people will obviously weaken and be hurt at least once before they age and pass away. It's always easy to listen to the dominant person's logic; loud voices reach one's ears even when they are covered. Instead, I want to listen to the shaky voices that cannot usually be heard. I want to create a device that would prompt the development of such hearing. To be honest, I think the project also attempts to create a society where my weak self would not be left alone to die––because after all, a society where self-identifying strong people set the standards sounds quite uncomfortable.
*1 Hikikomori: A social issue facing Japan wherein people shut themselves in their rooms or homes, isolating themselves from human contact. The reason may be due to modern mental illness such as depression or anxiety disorders and may involve cultural and economic circumstances. Hikikomori has also become a social problem in countries other than Japan in recent years.
––Atsushi Watanabe 
[Commentary]
For this project, Atsushi Watanabe applied the ceramic repairing technique kintsugi(*2) to install a two-dimensional piece using concrete. Watanabe breaks the concrete plates and then repairs them. All of the messages come from anonymous submissions through his website which calls for personal phrases about people's emotional scars.
*2 Kintsugi: Meaning "golden joinery", kintsugi is a Japanese art form that repairs broken pottery with lacquer sprinkled with powdered gold, under the understanding that broken pieces make the work more beautiful.
     Based on a piece about his own experience of being a severe hikikomori right before the Great East Japan Earthquake, this art project suggests the sublimation of emotional scars and recovering from one's mind trappings. He's currently expanding the project to foreign countries as well. In the adjoining exhibition space, visitors may submit their own accounts of emotional scars. Selected submissions will be created into pieces during the exhibition period. 
---
[Overview of "Koganecho Bazaar 2016 <Life - World of Asia>" ]
Exhibition period: October 1 (Sat), 2016 – November 6 (Sun), 2016
Venue: Studios, neighborhood shops, outdoor areas, etc. beneath and along Keikyu Railway, from Hinodecho Station to Koganecho Station (Koganecho,Yokohama)
Koganecho in Yokohama used to be lined up with several hundred illegal adult-entertainment businesses in the past.
The art event "Koganecho Bazaar" aimed to revitalize the ghost town city after a major crackdown.
Watanabe participated as a guest and exhibited one of his ongoing projects.
---
Exhibition room exterior
(Left: Exhibition room B/ Right: Exhibition room A)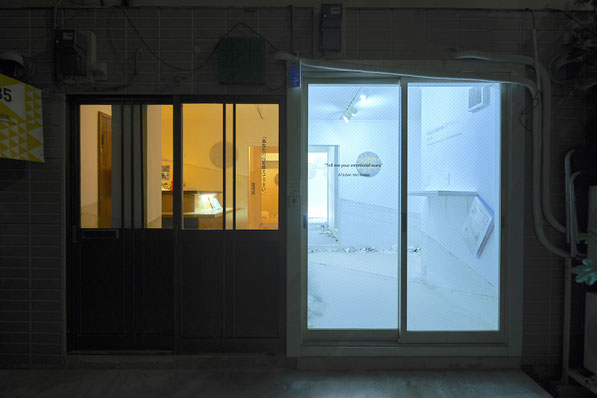 Exhibition room A (Right entrance)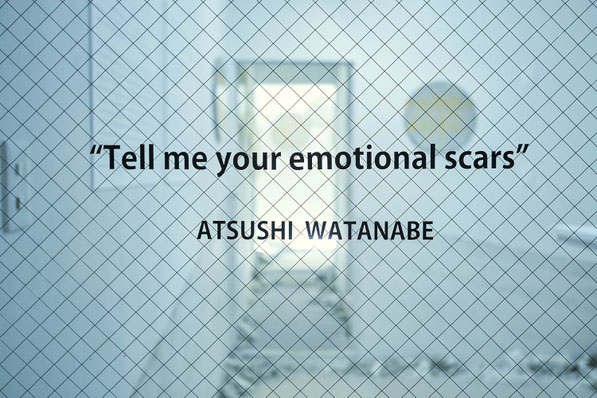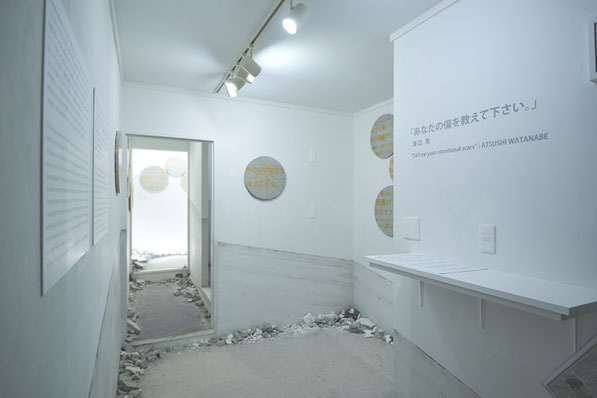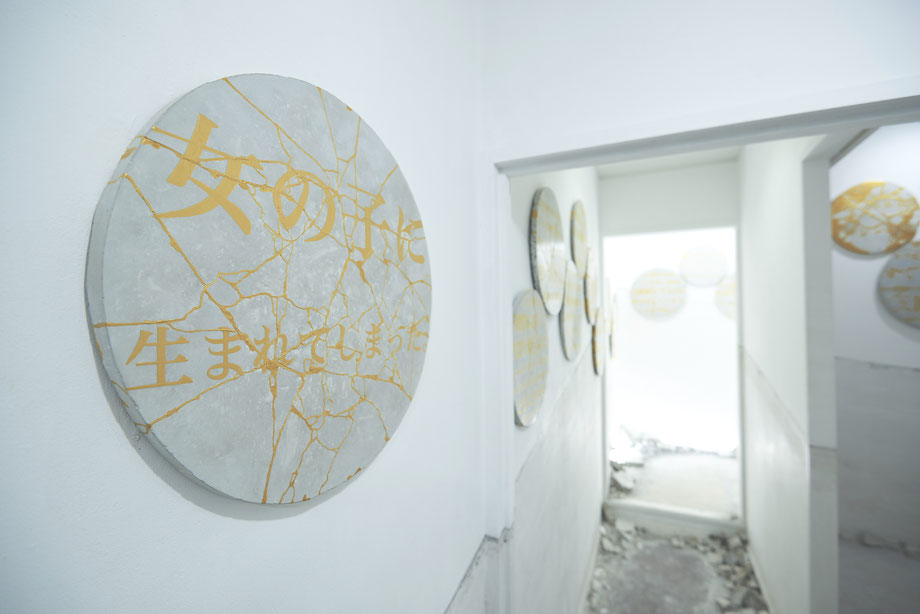 Installation view: "Tell me your emotional scars" project, 2016 (Kintsugi to concrete, paint) size variable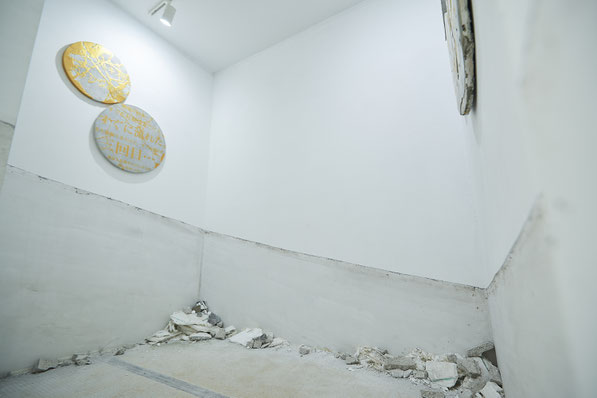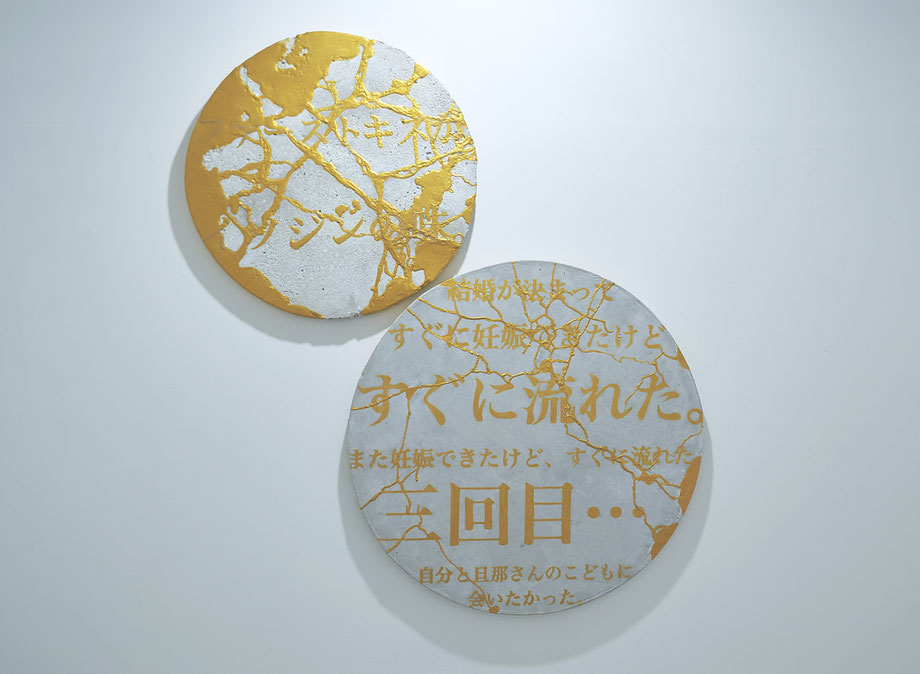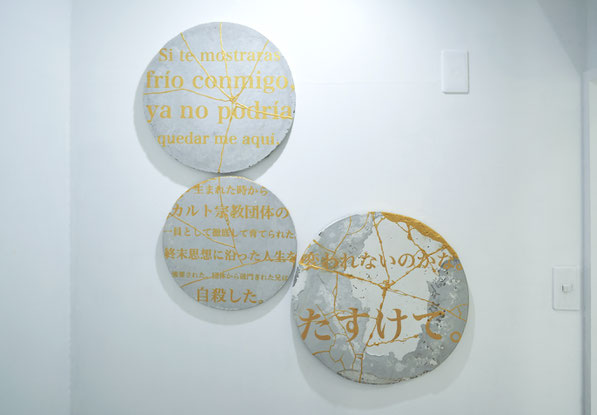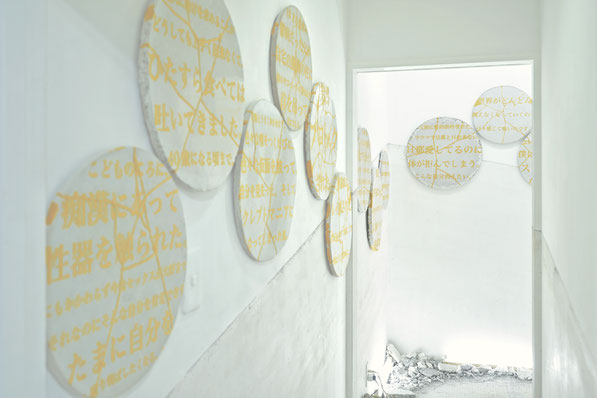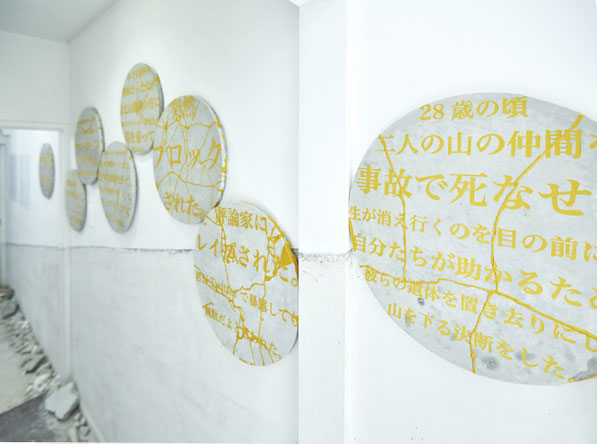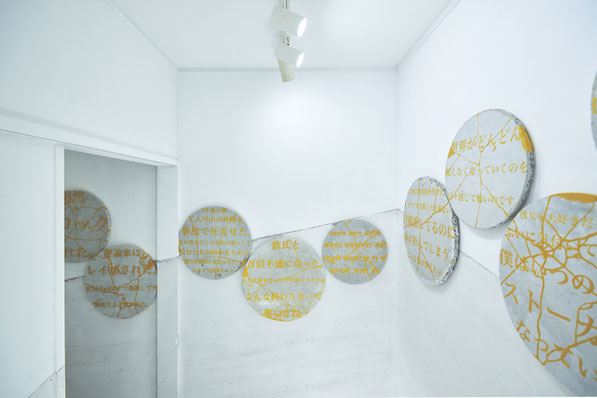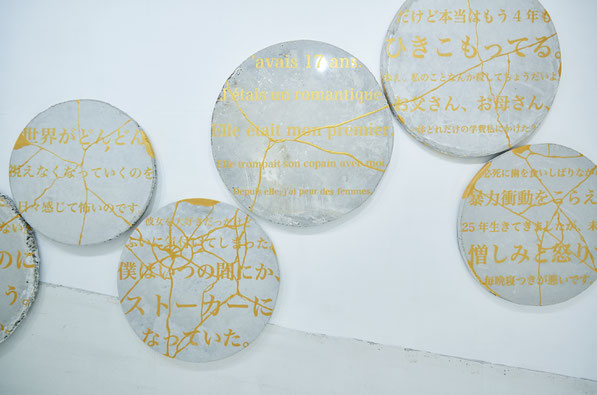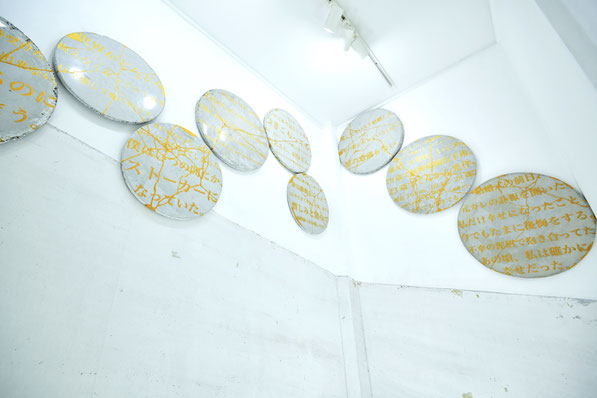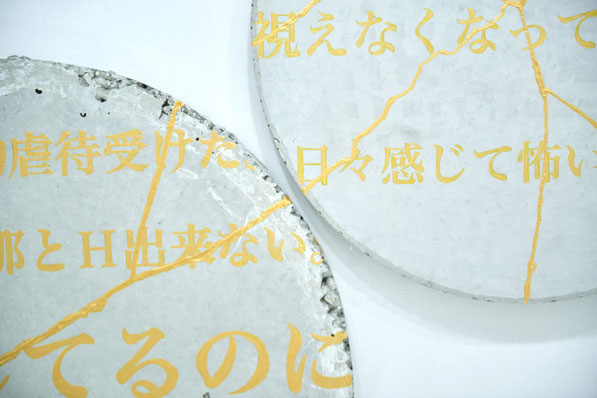 The golden cracks that are repaired create a linkage with the other concrete plates.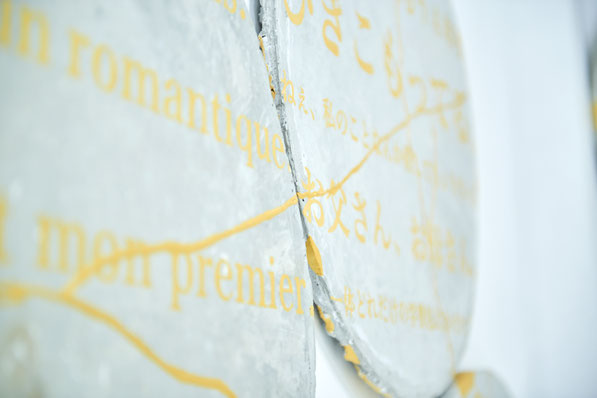 Exhibition room B (Left entrance)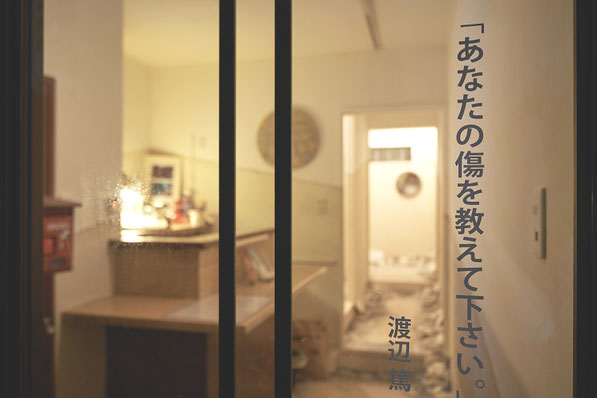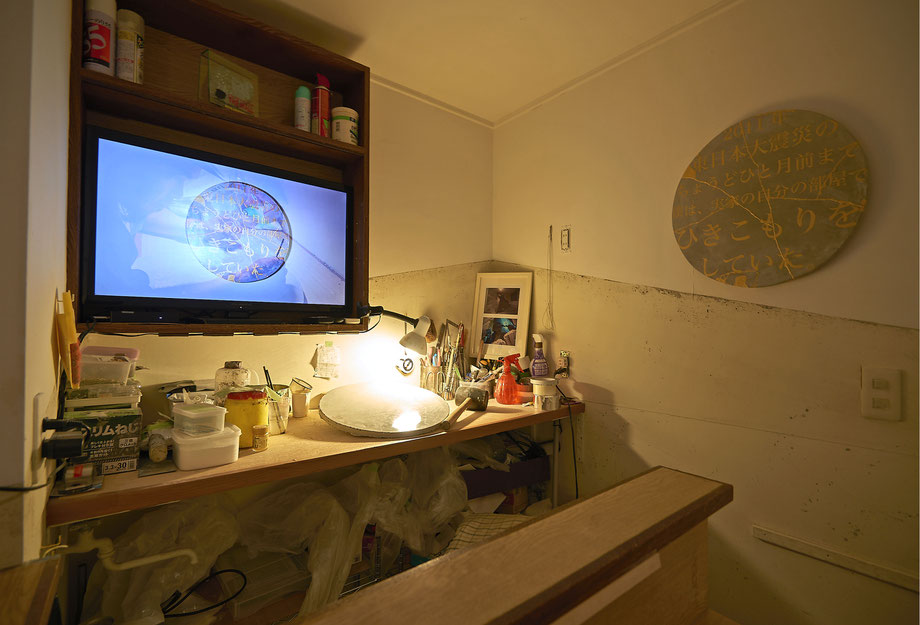 Watanabe's workspace was created into an installation at the gallery. The former special restaurant (illegal adult-entertainment store) venue's counter was extended to make the workstation. Placed inside the existing alcohol shelf, the video monitor plays the documentary.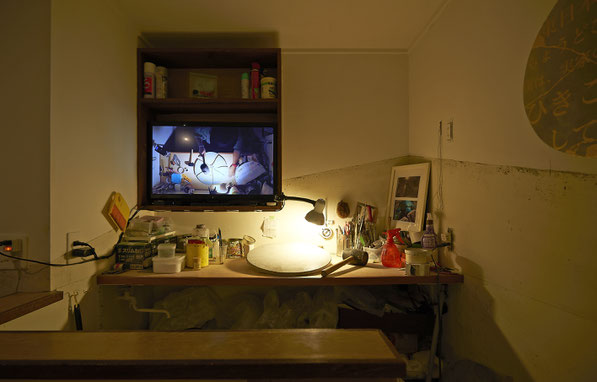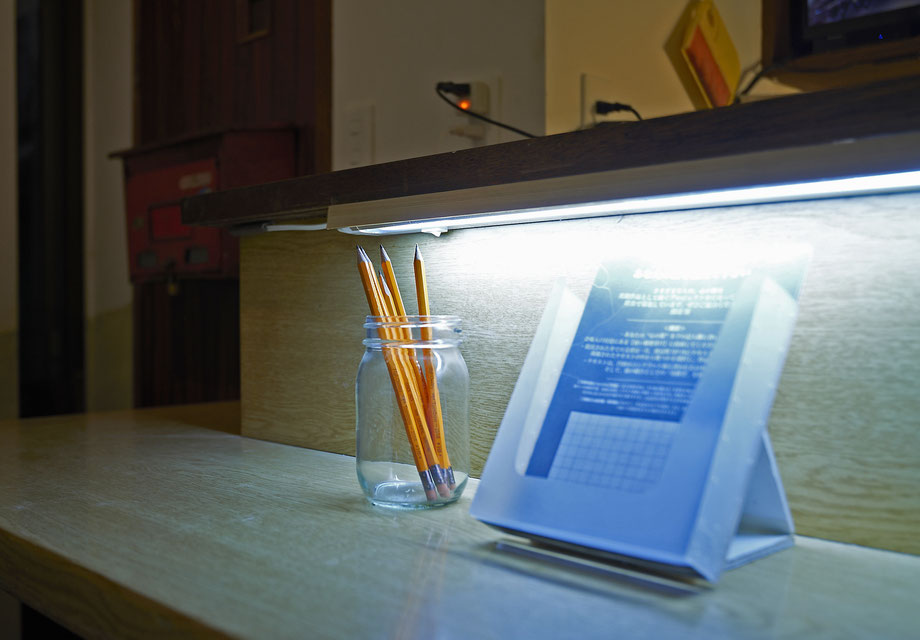 Until then, Watanabe had only solicited for people's emotional scars online. During the exhibition period, he set up a post box for submissions in the gallery. Some of the submissions of people's emotional scars were made into pieces there. The process was aired on a TV documentary show.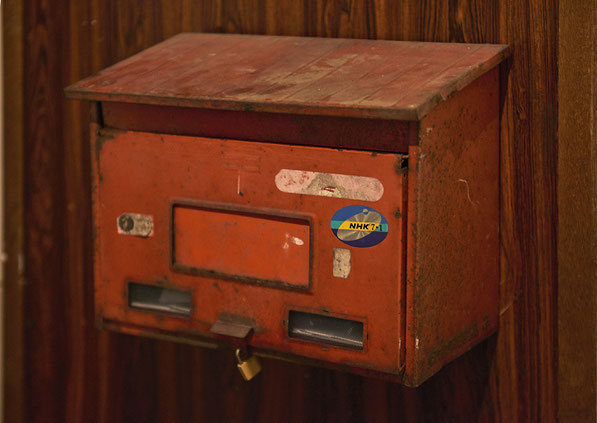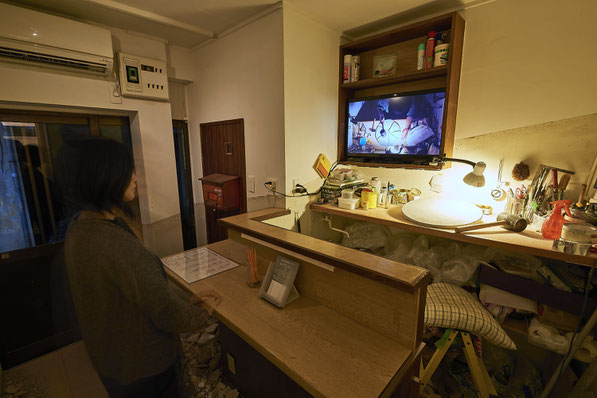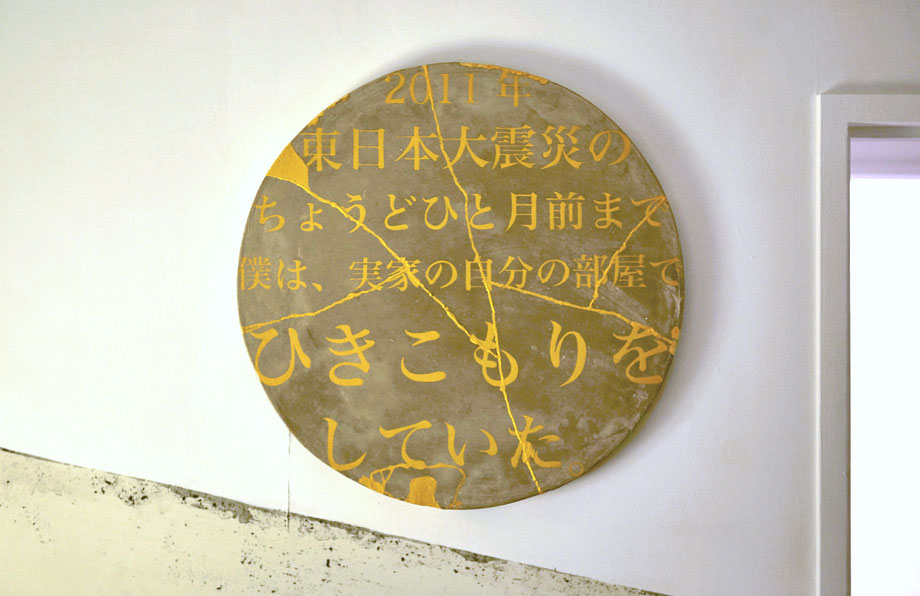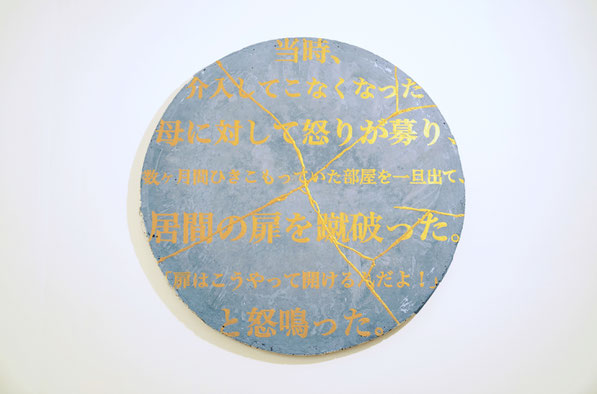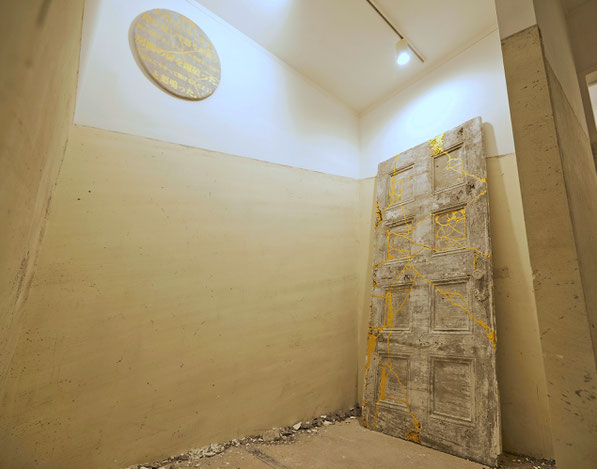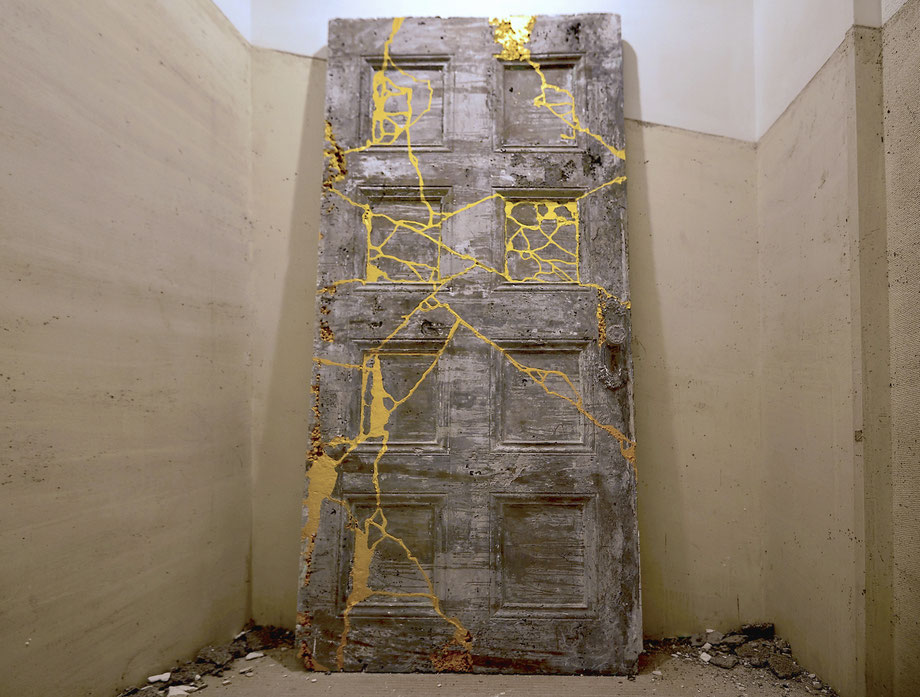 The door, 2016 (Kintsugi to concrete, paint)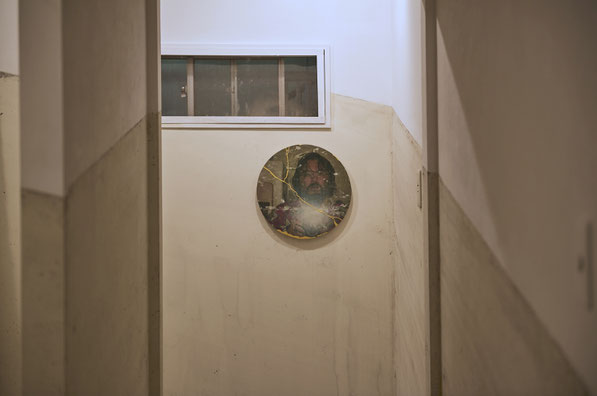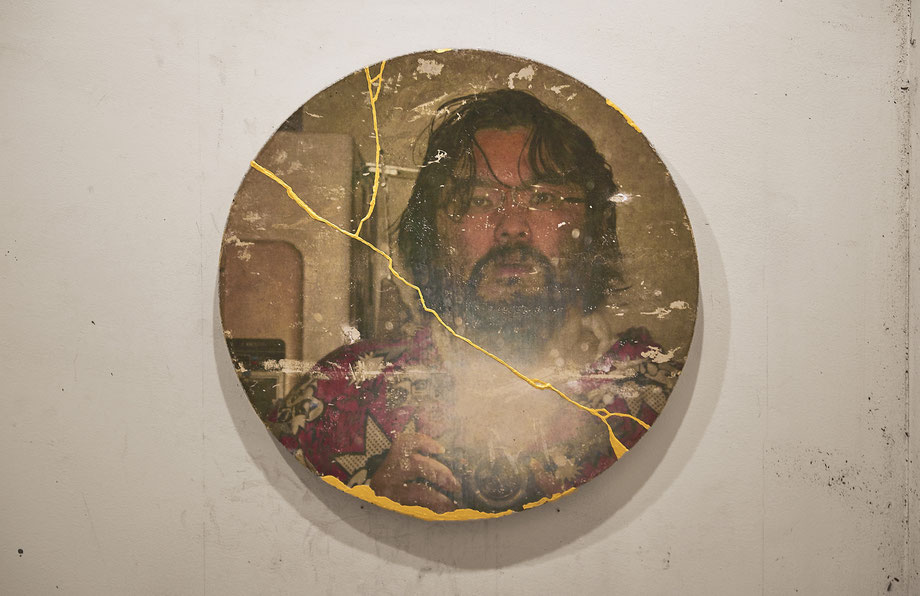 Self Portrait, 2016 (Transfer photograph to concrete and kintsugi, paint)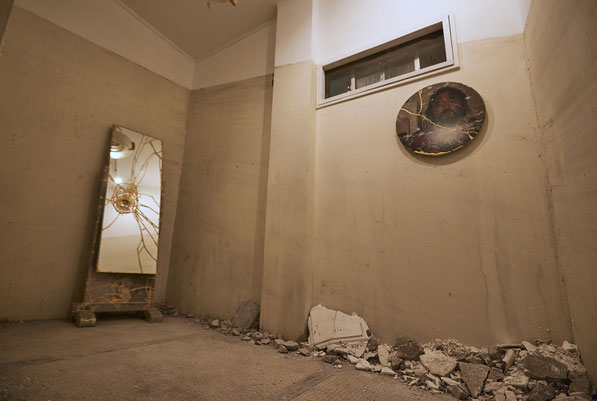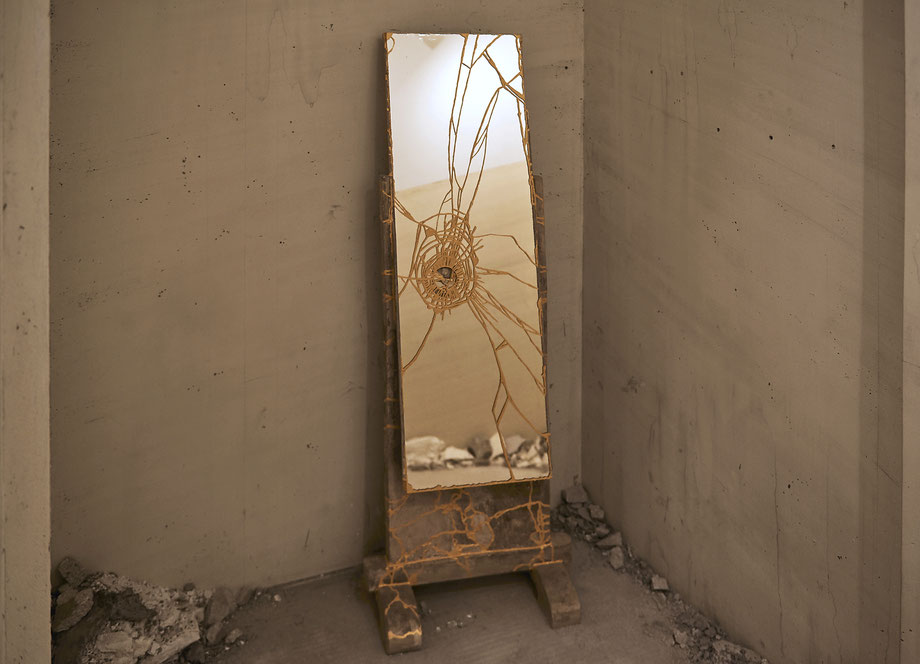 The mirror, 2016 (Kintsugi to concrete and glass mirror, paint)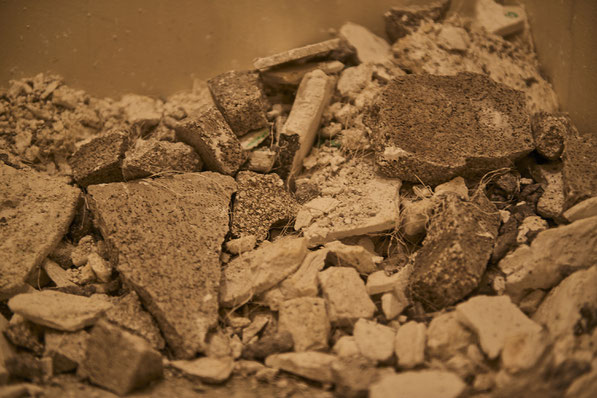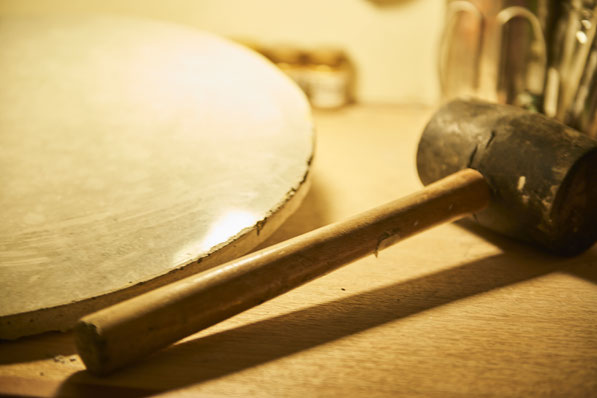 All photographys: Keisuke Inoue
---
"Tell me your emotional scars" project Document Movie 
2016
Video shooting, editing: Keisuke Inoue
Location: Koganecho, Yokohama
Video (The documentary was shown at the venue as part of the installation)
8min. 57sec.
---
[Main related information]
---
[Arrangement of works/ List of Exhibits] "Tell me your emotional scars" project, "Koganecho Bazaar 2016"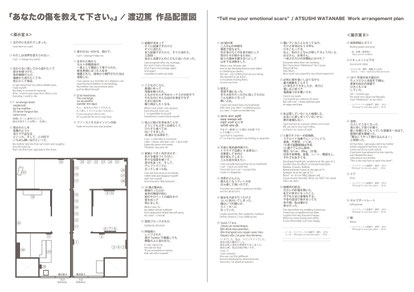 ---
[Image of omnidirectional camera]
---
[Production Support]
Ayano Anzai, Genya Nakamura, Hana Taharasako, Kana Nakamura, Riko Takahashi, Mikiko Takano, Minori Kogata,
Natsuki Sato, Noboru Kamata, Nobuko Okada, Saya Wakae, Shuji Wada, Takahiro Ishikawa, Takuro Yasuda
[Video shooting, editing]
Keisuke Inoue
[Cooperation]
Anonymous contributors, Rina Miyake, Masako Watanabe, Sumiko Sasaki, Suzanne Mooney,
Jihee.Lee, Megumi Shimizu, Hirotada Takahashi, Hiroaki Ohashi
ARTS COMMISSION YOKOHAMA,  "Koganecho Bazaar 2016"
(In no particular order)
[Special Thanks]
Taro Amano
---